Roof Cleaning & Moss Removal Services
Serving Greater Vancouver Since 2015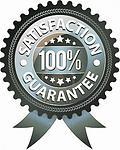 Moss is an inescapable reality in Vancouver, and it loves to take up residence on your roof. While the green patches may seem harmless, they could be causing thousands of dollars of damage to your roof – requiring you to replace your roof far sooner than you had planned. Since your roof keeps your home dry, it's beyond important to remove any moss. Plus, there's a high chance of algae hiding away out of sight, which can be equally damaging in the long run.
Before we plan a course of action, we'll survey your roof's overall condition and the amount of moss that is present. We'll then utilize techniques like roof moss brushing, gentle power washing and roof air blowing to will help you maintain the integrity of your roof. Our moss removal services also include applying a treatment to avoid future moss growth, which means you won't have to book another moss removal treatment for years to come.
Call now for a quote: 778-554-4174
Why Choose Baruch Power Cleaning Services
100% SATISFACTION GUARANTEE
We pride ourselves in providing the highest quality of services and professionalism that each of our clients expect.